Fundació Inform Board of Trustees consists of eighteen organizations in Catalonia which are interested in searching innovative strategies and developing projects in the local and social development framework.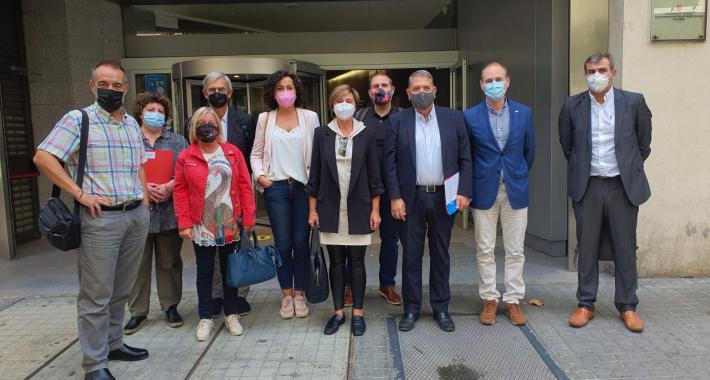 Currently the Board of Trustees is made up of:
Presidency, Ms. Blanca Padrós Amat
2nd Deputy Mayor for Economy, Internal Services, Work, Universities, Innovation and Transparency. Grameimpuls Chairwoman. Santa Coloma de Gramenet Town Hall.
Vice Presidency, Mr. Carles Prats Alonso
Business and Ocupation Area Council Delegate. Fundació IMFE Mas Carandell of Reus. Reus Town Hall.
Secretary, Ms. Anna Campos Valverde
Institut Municipal d'Ocupació Chairwoman. Lleida Town Hall.
Treasury, Ms. Abigail Garrido Tinta
Sant Pere de Ribes Town Hall's Mayor.
Ms. Marta Mayordomo Descalzo
Deputy Mayor for Economic Development. El Prat de Llobregat Town Hall.
Mr. Eudald Sellarès València
Economic Promotion Councillor. Manlleu Town Hall.
Mr. Francesc Pepió Herrando
Economic Promotion Councillor. Tortosa Town Hall.
Mr. Joan Manel Montfort Guasch
Deputy Mayor for Economic Development and Exterior Projection Area and Citizen Security, Coexistence and Citizenship, Economic Promotion, Comerce and Ocupation Councillor. Vilafranca del Penedès Town Hall.
Mr. Víctor García Correas
Occupancy, Education and Artistic Schools Council Delegate. Rubí Town Hall.
Ms. Ainoa Garcia Ballestín
Employment and Training Councillor. Molins de Rei Town Hall.
Ms. Montserrat González Ruiz
Deputy Mayor for Economic Development and Administrative Impulse Area. Sabadell Town Hall.
Ms. Rosa Maria Rovira Vendrell
Vallsgenera Chairwoman. Valls Town Hall.
Mr. Antoni Burgaya i Trullàs
General Secretary of Escola Pia de Catalunya.
Mr. Manuel Castaño i Bachiller
8th Deputy Mayor, Education, Ocupation, Citizen Security and Civil Protection Counsellor. Tarragona Town Hall.
Ms. Silvia Vaquero Martín
Education, Culture and Tourism Councillor. El Vendrell Town Hall.
Mr. Joan Galiano Peralta
Bigues i Riells Mayor. Intermunicipal Commonwealth of La Vall del Tenes.
Ms. Glòria Plana Yanes
4th Deputy Mayor, Economic Promotion Area Councillor. Girona Town Hall.